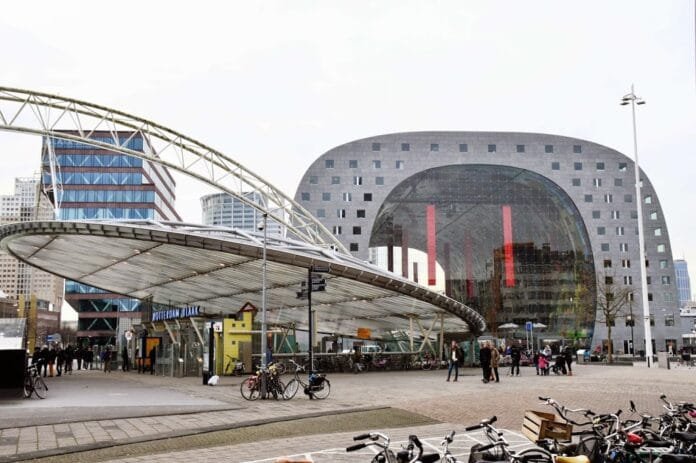 When I lived in Brussels, I treated weekend trips to the Netherlands as I do trips to Philly and New York City from DC: spontaneous and fun. One of the things that attracted me the most to Rotterdam was its modern architecture. During World War II, many buildings were destroyed, causing the city to rebuild. Compared to many other cities nearby, it has a wide spectrum of modern buildings, both residential and commercial. In October of 2014, modern design and food merged at the opening of the Markthal, the new indoor food market of Rotterdam.

Markthal Exterior
One of the things I was looking forward to for my latest trip to the Netherlands was the Markthal. I love food, and it is the perfect place to experience it. First of all, weather in the Netherlands can be hit or miss. I arrived to the market on a cold December day and warmed up with Mediterranean tapas at Obba Food Bar, a wine and food bar nestled in the middle of the market. There, I had a delicious mezze of fried shrimp, mushroom balls, and an array of dips. It was entertaining to do some people watching as it is right in the middle of the hall.
Ol
I visited the Markthal during the holiday season and you are welcomed with Oliebollen, a fried Dutch doughnut that is only served around Christmas and New Year's Eve. Many families still make their own but the process is quite laborious, therefore more and more people are buying them from bakeries or stands. We got to sample the ones from the Markthal and they are Dutch approved by my husband! Of course he says his parents make the best ones but these were close enough!
The market has a wide selection of restaurants and stands you can eat in. You can have everything from vegetarian dishes to sushi to tapas at the many stands of the Markthal. There is also a wide variety of international ingredients from many shops, to include a full Asian supermarket and Caribbean staples such as plantains and cassava. If you want to go for Dutch goodies, there are several cheese stands to choose from. We ended up buying cheese to bring back home at De Rotterdamsche Oude (The old Rotterdamer). There are also delicious stroopwafels (two thin wafers filled with caramel) at van Vliet Stroopwafels you can bring home if savory is not your thing.
Tapas at Markthal
As a traveler, I love that Rotterdam is not as crowded with tourists. The city gives you a unique snapshot of Dutch life through its food and its multicultural population. If you love modern architecture, you will love the concept of the Markthal. What even makes more unique is that it is not only a food market but also a living place. As a resident, you can actually peek into the market from your windows that lead to the interior of the market! I think that would be dangerous for my wallet and waistline!
Food Stand at Markthal
If you find yourself in the Netherlands, whether it is business or pleasure, I highly suggest you take the time to visit this unique food experience. Given that it is indoors, it is weather proof and there is enough variety to keep a big group happy and fed.
Interior of the Markthal (Windows are of Residents)