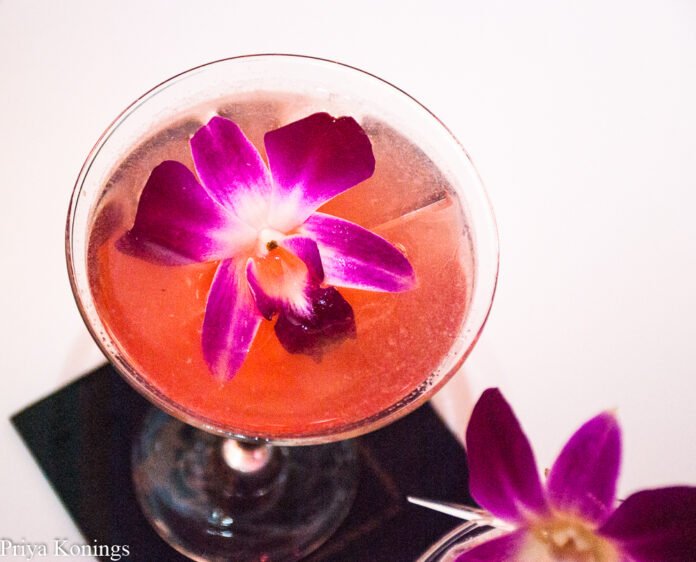 Having lived in California for several years, I have been to Las Vegas dozens of times . Las Vegas is wild, crazy and always a good time. I wrote about my most recent trip to Las Vegas on the Dining Traveler last year. You can read about it here if you are thinking about going and need advice. If you don't have the time, energy, or money to get all the way to Vegas I have good news: Vegas has come to DC! The MGM National Harbor is now open and it is an experience you don't want to miss.
The hotel itself is absolutely stunning, with spacious rooms, a glorious entrance, an art collection that is awe-inspiring, a huge casino, and restaurants from world-famous chefs. I went and stayed at the facility and am here to give you all the juicy details.

The Rooms
Even the regular rooms are lovely, with plenty of space and pristine amenities, but if you are looking for something really special, consider a corner suite at the MGM National Harbor. It has a huge bathroom with double sinks, a seating area, and floor to ceiling windows. Plus, by booking a suite, you get access to the VIP lounge which includes VIP check-in and complimentary snacks, beverages, and wine.

The Entertainment
The Casino: If you are staying at the MGM National Harbor for some rest and relaxation, I would start off with a drink in the VIP lounge or the lobby bar and then head to dinner. After dinner, check out the casino and try your hand at blackjack, poker, or Russian roulette!
The Theater: You may want to plan your trip around a show. Cher has some upcoming dates, as does Ricky Martin and The Temptations. See the website for info on booking a VIP box if you want the royal treatment.
The Spa: The morning after wining and dining you are going to want to hit the hotel's premier spa. Aside from relaxing spa treatments there are also saunas, whirlpools, and a relaxation room. You can also use the gym.
The Pool: Nothing says relaxation like pool-side lounging!
The Art
At some point during your stay at MGM National Harbor, you should walk around the hotel and appreciate the art collection. The works of art are scattered throughout the resort's public spaces, featuring commissioned and procured artwork by renowned local and international sculptors, photographers and mixed-media artists including Bob Dylan, Margaret Boozer, Alice Aycock, Ron Beverly, Martha Jackson Jarvis, Sam Gilliam, John Dreyfuss, John Safer, Liao Yibai and Chul Hyun Ahn.
Shopping and Drinking at MGM National Harbor
Shopping: try on Sarah Jessica Parker-designed shoes or purchase sunglasses from Specs. The hotel has a number of clothing and lifestyle stores.
The Drinks: MGM has a number of watering holes, each one with its own theme. Both the Blossom Bar and The Felt Bar are located in the casino so you can take breaks in between gambling to have a drink. Or, if you aren't into gambling, you can just hang out, people watching, and sample some craft cocktails!
The Lobby Bar: This charming spot is a great place to kick off the night, or indulge in a nightcap.
The Blossom Bar: The themed décor of this bar ranges from cherry blossom like lighting fixtures to cherry blossom floor to ceiling photographs, paying homage to DC's historic cherry blossom trees. The drinks are also cherry blossom-themed, which the Nelly Blossom being the most popular. Made with vodka, cherry blossom tea, pomegranate, lemon rose syrup and Champagne it is as tasty as it is lovely to look at.
Felt Bar & Lounge: This lounge offers the region's first tableside mixology program, which, having experienced in Las Vegas, is fun and interactive.
The Restaurants
When staying at the MGM, you will surely be indulging in some fine dining. The choices are plentiful!

FISH by Jose Andres: Although it's a seafood restaurant, there are choices for everyone. My friend and I indulged in a fresh, vibrant kale salad, Romanesco, hush puppies, and mushrooms served with a sweet potato puree.

MARCUS by Marcus Samuelsson: Sample classic American fare like pasta, salads, sandwiches, fries, and more. This is a great spot for brunch, where you can indulge in omelets, pastries, and bottomless mimosas.
GINGER: An upscale Asian restaurant is another fine dining option.
Bellagio Pâtisserie: This is where you have to go for dessert. Truffles, macaroons, and other pastries are available, some of which are so beautiful you won't want to eat them!
The Verdict
MGM National Harbor is the ultimate staycation. Food, drinks, entertainment and a luxurious spa all in one location, just steps from your hotel room. Book that corner suite today!
MGM National Harbor, 101 MGM National Ave, Oxon Hill, MD 20745, Website