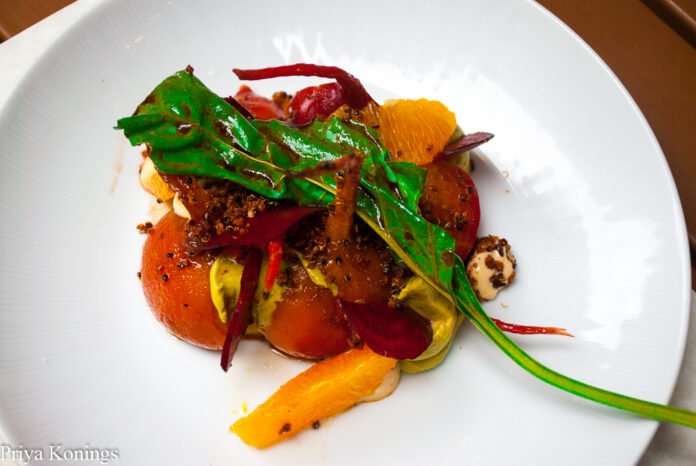 Although I love France, I am not always sure I will get good vegetarian fare everywhere I go. At Le DeSales, this is not a problem: there are options for everyone. Located on DeSales Street in Dupont Circle, where Panache used to be (some DC old timers may remember Panache), you may miss this spot unless looking for it. But once you have found it you will come looking for it again. All about our experience…
The Appetizers 
Kick off your meal at Le DeSales with a glass of wine or cocktail, and then order to share. Portions are decent sized, and sharing will let you sample multiple items. We started off with a gorgeous beet salad, where the beets are like a rainbow on the plate, tossed with crispy quinoa and dollops of a creamy miso sauce. It is bright, bold, and bursting with freshness. Simultaneously, we enjoyed the burrata appetizer, where a globe of burrata crowns a pool of mushroom duxelles. Adorned with stunning green arugula leaves, the dish is as decadent as it sounds. We also ordered the paprika potatoes to start (yes we were hungry!) which come with a whole soft boiled duck egg that your server will crack and swirl into the potatoes, making for a super creamy and rich dish.
Entrees & Sides 
We were close to stuffed but moved onwards! We got the forbidden rice, tossed with micro cauliflower and broccoli and pomegranate, which was a whirlwind of texture and flavor.  With it, we ordered broccoli which comes doused in a bold peanut and mustard dressing. It sounds weird I know, but it was one of the best items of the night! The crunchy broccoli is the perfect vehicle for the savory, creamy sauce: the combination of peanut with broccoli has an Asian flavor profile, something Chef brings forth in several dishes as seen above with the miso in the beets dish, and black rice dish above. We also enjoyed brussels sprouts and potatoes smashed with sour cream and chives, luscious and satisfying.
The Dessert
Of course, no meal in my world is complete without dessert. We indulged in both creme brulee and a chocolate tart that is served with creamy, bittersweet espresso gelato. The creme brulee was creamy and light, but could have used some berries or  fruity element. The tart is a match made in heaven for any chocolate lover.
Le DeSales: The Verdict
Le DeSales a fine dining French experience for sure! Linger over wine and cheese, revel in the stunning salads and creamy potatoes, and lick every last morsel of creme brulee from your spoon.
Le DeSales, 1725 Desales St NW, Washington, DC , Website