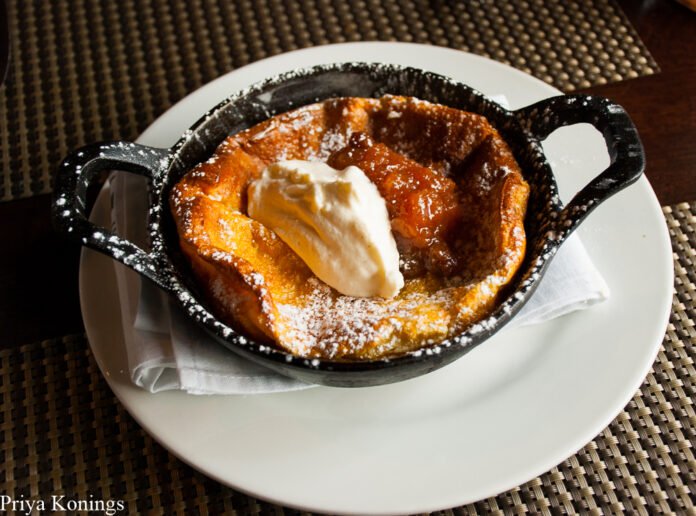 DC is brunch city. We've got fancy brunches and gastropub brunches and so many bottomless brunches. But not all brunches are created equal. At Woodward Table brunch, you have the best of both worlds: a bottomless mimosa option, with food ordered a la carte so you can choose from a lengthy menu that features everything from eggs benedict to gazpacho to pizza to pasta.
The Food
We made a valiant effort to try it all at, but alas the menu has too many choices. What we did try though, we loved. First, any brunch at Woodward Table much begin with a selection of patisserie. Croissants so buttery they will melt in your mouth, muffins that crumble when you touch them, fluffy buns filled with slabs of burrata. Frankly, I am not sure I need more than these pastries and a glass of champagne!
Brunch Dishes
The Woodward Table Brunch is made for indulgence. Tomato gazpacho is a seasonal delight, and breakfast items like fried eggs over masa sopes, an asparagus omelet, and an adorable Dutch baby served in a mini cast iron skillet are hearty and tasty. For those who prefer lunch items at brunch, like I do, try one of their pizzas. I love the chewy dough, which isn't too thin, and the margherita screams simplicity with a lovely savory tomato sauce and fresh mozzarella cheese. On the lunch side there is also a baked squash, stuffed with greens, farro, and mushrooms and drizzled with salsa. Mac n cheese, biscuits, and pimento cheese grits are great sides to lunch or brunch items.
Dessert
The pastry chef at Woodward Table is such a genius that you have to get dessert: funfetti rice krispie treats, a platter of mini confections like cream puffs and macaroons, and cheesecakes and lemon tarts, chocolate mousse, and more.
The Drinks
Make room for drinks! Mimosas and Bloody Marys are great, and there is a wine list with sparkling rose and plenty of white wine, all of which pair perfectly with brunch fare.
Woodward Table Brunch:The Verdict
The Woodward Table brunch is casual enough for a group of girlfriends who want to brunch for hours, but elegant enough to bring your parents who are visiting from out of town. The outdoor patio is ideal for summer days, and bar has seating as well if you want to dine and dash.
Woodward Table, 1426 H St NW, Washington, DC, Website