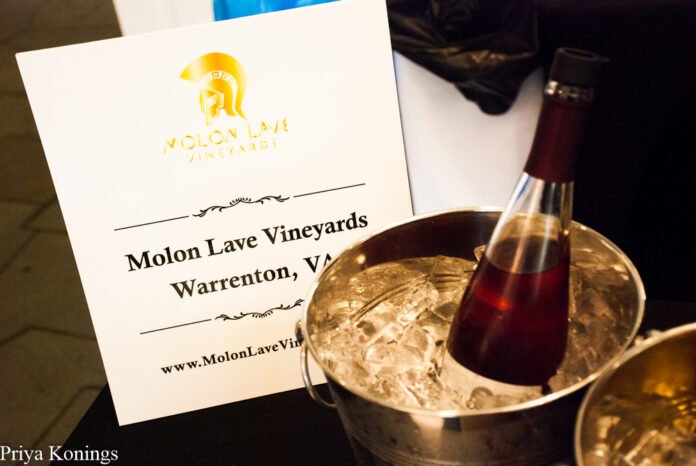 This year I went to the Fauquier County Wine Tasting and Competition. Based on how much fun it was I will definitely make attending this annual event a priority! The event was held at Airlie, a stunning historic manor house that serves as a hotel and wedding venue. About an hour outside of D.C., the manor is located on a gorgeous 300 acre property which is complete with stunning pastoral scenery and a lake.
Fauquier County Wine Tasting & Competition
The wine tasting event and competition occupied two large event rooms at Airlie, where different wineries set up stations for wine tasting. I took my bestie to the event, and as soon as we arrived we started making the rounds!
Our Favorite Wines
Our favorite wines of the event were Pearmund Cellars, which had a fantastic cabernet franc, and Molon Lave Vineyards, which featured a gorgeous semi-sweet white. We also enjoyed wines from Narmada Winery and Barrel Oak Winery. Each station not only had wines to sample, but a tasty snack to pair with the wine. In the center of each room was a huge display of breads, jams, cheeses, and other treats. In between sampling wine we grabbed cheese and sat out on the stunning patio to enjoy the venue.
The Scene
After all the wine tasting we purchased a few bottles, we jumped on our shuttle and hit the road. If you missed the event this year, I highly recommend gathering a group of friends and renting a shuttle to take you to this all–day event next year. Your ticket includes unlimited wine tasting and plenty of snacks, plus the opportunity to vote for your favorite Fauquier County Wine. The tickets this year ranged from $35-$95.  While sampling the wine is fun, it was also interesting to meet the winemakers and learn more about the individual wineries.
The Verdict
Whether you are a wino or a novice wine drinker, you will love this annual Virginia wine tasting event! Fauquier County wine is a great addition to the booming Virginia wine scene.