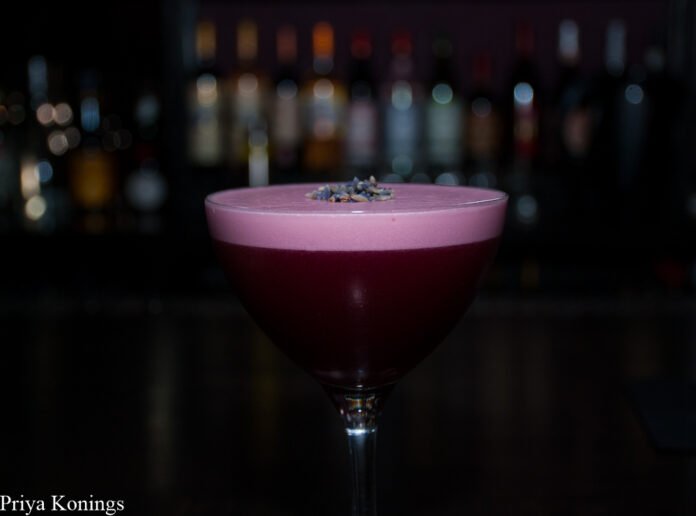 One thing is for sure, the drinks at Hank's Cocktail Bar have the most creative names in town! I went over to the rapidly growing Petworth neighborhood where the bar is located and was delighted by the charming venue. Bartenders Chris and PJ are friendly and engaging and the drink list is full of tempting libations. The back patio is the perfect place to enjoy lazy summer, spring and fall evenings, while the cozy interior will help winter pass by more quickly.
Hank's Cocktail Bar: About the Cocktails
The first drink I sampled was called "Three Things I Shall Never Attain: Content, Envy, and Sufficient Champagne." As my readers know, I love champagne so this drink was calling out to me. Made with gin, rum, lemongrass and honey syrup, and of course champagne, this drink goes down super easy. The lemongrass honey gives the drink a soothing, healing note, while the bubbles give it just the right kick.
Next, I tried "He's So Bad But He Does It So Well," which is as pretty to look at as Taylor Swift is! The liquor is vodka, but the bright red color comes from hibiscus. Jalapeno adds a hint of spice, and the pineapple foam is a gorgeous cap to the beverage. Aren't you loving the names of the cocktails at Hank's Cocktail Bar?
Meanwhile, my husband sampled the "Hey Eve Stop Playing with My Horns and Try These Apples!" I took a spicy of this cognac drink which will warm you all the way through. It has a deep, smoky flavor, with a burst of seasonality from the apple cider.
He also tried the "Waking Up With A Bloody Knife In Your Hand" which is as strong as it sounds! Made with scotch, amaro, and grappa, this drink is not for the faint hearted. It has a great spicy note from chai foam and deep nutty essence from black walnut bitters.
We shared a final drink: a house scotch and mezcal hot toddy, complete with all-spice smoked tea and a fresh lime. It's a warm, herbal drink, perfect for this cold winter!
Hank's Cocktail Bar: The Verdict
Prices are reasonable, and there are plenty of bar snacks like pretzel bites, spinach ricotta dip, and burrata as well as sandwiches to help you absorb all of the drinks! This new spot by the Hank's Oyster Bar crew is a great addition to the Petworth neighborhood. You know where you are going for your next cocktail!
Hank's Cocktail Bar, 819 Upshur St NW, Washington, DC 20011, Website