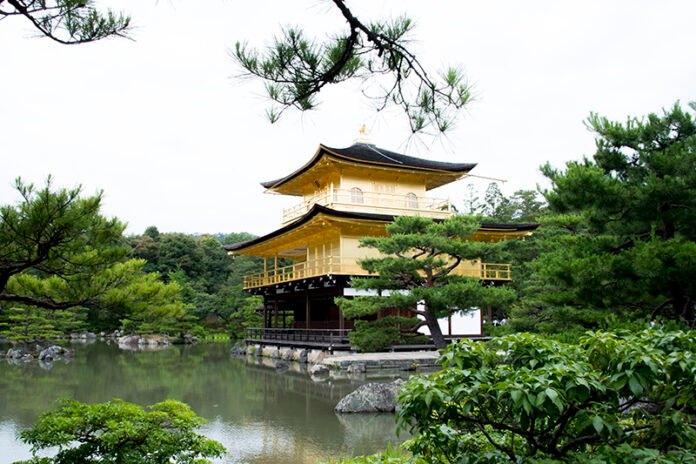 When working on my itinerary to mainland Japan, it was imperative that I added at least two days in Kyoto.  Sounds cheesy but ever since I read and watched "Memoirs of a Geisha" a decade ago, I was enthralled by this city.  When I shared my plans of traveling to Kyoto with friends who had previously been there before, everyone had similar feedback: "It's one of my favorite destinations in Japan".   What can I say? After our trip, I vehemently agree with them!
The Scene:  Our two days in Kyoto adventure began as we arrived by Shinkansen (high speed train) from Kobe to Kyoto Station.  The station is large and the scene is sensory overload:  men in suits rushing to their next destination, little kids in their uniforms headed to school, visitors trying to figure out their next stops, and us, Dutchman & I, in the middle of the glass and steel of Kyoto Station trying to figure it all out.
Getting Around:  The staff at our hotel, Sakura Terrace The Gallery gave us the great tip of buying a daily bus pass for 500 yen (little less than $5). You can also purchase the tickets at the train/bus station.  This is not a tourist sightseeing bus; just the normal public transportation bus, which was great to move around past the tourist highlights.  Although Kyoto has a great underground system, we decided to explore the city by bus, as it gives us a better sense of where we are located and we can capture the city scene through the windows.  We also did a few trips by taxi and the prices were average, pretty much what you find in any big city. Example: a taxi from Kyoto Station to Gion district was around $12.  Bonus: most taxis do take credit cards.
The Food:  Where do we start??? Compared to my previous guides and posts of other destinations, I have to admit that there are many places that were so anonymous I can't remember (or decipher) their names or where they were located.  However, I can remember the magic of walking into anonymous Izakayas (Japanese Gastropubs), trying to decipher menus with Google Translate or blindly trust the chef.  One of the Izakayas we went to was a random choice, close to the hotel, and as we arrived we can tell this is a neighborhood hangout.  What struck me the most was seeing something I've rarely seen in Japan: a female chef in the Izakaya.  A young girl jovially working the grill and greeting every customer as they came in.  We ordered small dishes, and one that really clings to my memory is a grilled rice ball with chicken and topped with pickled plums.  The smoky flavor or the crispy exterior or the rice ball still lingers in my memory.  To me, this is the beauty of Japan. It's not about the flashy restaurants or name dropping chefs, but walking into anonymous establishments and truly experiencing Japanese culture.
At this point of my two days in Kyoto adventure, I had spent six weeks in Asia, mostly in Okinawa and needed a break from Japanese food.  I took that break at La Locanda, the Italian restaurant at The Ritz Carlton Kyoto. There, we tasted simple yet amazing dishes such as a plato primo of spaghetti with tomato sauce, raviolis made in house, and we concluded our meal with a decadent dessert of a deconstructed crumble with mascarpone ice cream.  At the Ritz Carlton, we received a local tip for a restaurant: Torito a local favorite. We headed there the following day… Torito is more of an upscale Izakaya and reservations are recommended. We sat at the bar (my favorite place to sit at an Izakaya) and watched the magic unfold.  There, we indulged in rice bowls topped with grilled chicken, skewers of tender chicken thighs, and plenty of sake that the Dutchman indulged in.  For the lovers of sweets: head to the Isetan at Kyoto Station to their basement.  There I saw some of the most beautiful pastries I've ever seen for every taste: beautiful mango tortes, classic chocolates, and plenty of mochi (rice paste) desserts. I was taken by the level of detail in each one of these pastries, truly a work of art.  There are several sit down cafes in the basement if you wish to sit with your sweet fix.
What to See: There are plenty of places to walk off the delicious food in Kyoto.  The city is famous for its shrines and these spaces live up to their reputation.  On top of my list was the Fushimi Inari, famous for its rows of red tori gates that are famously depicted in Memoirs of a Geisha.  Entrance is free but it is extremely crowded.  My advice is to go early in the morning and hike further into the trails to get some great pictures without the crowds.  Another highlight was Kinkakuji, known as the Golden Pavilion.  This park is visually stunning with a gorgeous golden pagoda standing in the middle of a pond.  It makes you feel as if you step back into another era of Japan.  This place is also very crowded with tourists and school groups but it's so worth it.  We did go to Higashi Shrine within walking distance of Kyoto Station. It was not touristy but rather felt like a place that locals came and did their ritual of Buddhist prayer as we saw several people who looked like they were on their way home and stopped over for a prayer.  It was quiet and remarkably peaceful.  Wandering the streets of Gion, the Geisha district at night was quite a treat.  It was amazing to see the small houses where they live and even catching a glimpse of these mythical women who still conserve the tradition of many centuries ago.  I was so taken by the girl in the kimono walking along the street in her beautiful kimono and headpiece that I did not even take a photo.
One of my favorite experiences during the trip was visiting the Nishiki Market..  When traveling, I always search for food markets.  There's something about the energy of the vendors, the color of the food, the scents, that draws me in.   It came alive with stalls lined with fresh fish, colorful selection of pickled vegetables, savory fried treats, and green tea everything!  You can easily eat your way around the market with all the delicious offerings.  Still hungry?  There are plenty of restaurants on the second floor of the market although they are labeled quite inconspicuously. We ended up at a restaurant which specialty was eel (this is very common in Japan, most restaurants focus on one core ingredient).  Two things food lovers should not miss in Kyoto: this market and a Japanese supermarket experience, the supermarket at Isetan at Kyoto Station is pretty epic!
Where to Stay:  We stayed at the Sakura Terrace The Gallery, a Japanese owned hotel we booked via Booking.com (tip: while in Asia, also look up Agoda.com, they have some great deals in Asian properties).  It was the perfect hub for our two day in Kyoto trip.  A small boutique hotel, we loved the modern feel, open courtyard, and friendly service.  The rooms were small yet had all the comforts we needed with small luxuries as pajamas, slippers, and an in-house bathhouse. During the early evening, the hotel offers complimentary cocktails during happy hour and the hotel provides guests water and tea at all times at the lobby.
The Verdict:  We could only wish that we could've spent more than two days in Kyoto.  There's so much to see and eat in this beautiful and historic city.  Come with an open mind and palate to truly enjoy the city!
Planning a trip to Japan? Check out my previous post on how to plan an epic trip to Japan!