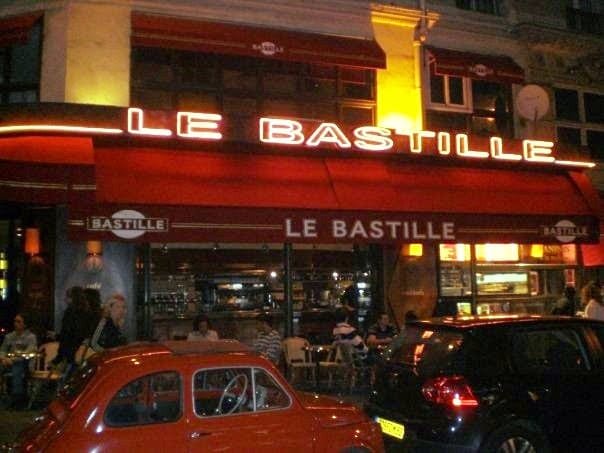 A few weeks ago, I posted a picture on Instagram and my good friend (and spiritual adviser) Nina commented: "one day you should write about the healing powers of Paris". She was referring to an encounter we had in Paris in 2008. Nina was my first friend in college. She is almost six feet tall, blond, and bohemian. I am short, brown, and military. On paper we are so different but we bonded over our similarities: our hometown of Rochester, NY, Puerto Rican roots, and most importantly, our passion for writing. After graduation, we traveled different paths. I ended up being stationed in Japan and Nina spent time during graduate school in South Africa. Despite different routes, one thing never changes: when we see each other we depart with a renewed sense of calm and optimism.
Bastille: our neighborhood for the weekend.
It was late summer of 2008 and I was living in Stuttgart, Germany and Nina was living in Paris. I was working a time consuming job as part of a General Officer staff and living in an emotionally abusive relationship. Nina was also in a personal and professional crossroads during her time in Paris, she was miserable and living in a hostel. Right before my arrival she had watched "You can heal your life" by Louise Hay and realized she wasn't being open and receptive to goodness. The universe in its divine intervention (and Facebook) brought us together in Paris for a weekend. I was emotionally drained from my relationship and work and decided to splurge on a 350 Euro last minute Lufthansa ticket to the City of Lights.
Nina and I in Paris
She was working independently during a short term stay in Paris and was staying at a hostel. I was doing well financially mostly due to my expat allowances in Germany and decided to treat her to a weekend at
The Standard Design Hotel in Bastille
, a small design hotel in one of my favorite arrondissements. I don't clearly recall where we exactly ate or drank but I do remember how I felt walking the streets of Paris with her.
Metro in Paris
As we wandered at Pere Lachaise Cemetery looking for the tomb of Jim Morrison we talked about where we were in our lives. I was in a destructive relationship that had turned off my spark. Parts of my self-esteem were buried deeper than some of the century old graves at the cemetery. We may not have found Jim Morrison that day, but thanks to Nina, I was able to find some of that spark again.
Paris
I recall that weekend being unusually sunny in Paris. Nina and I roamed the city, sat in cafes savoring crepes drenched in Grand Marnier on the thirtieth year of our lives. We sat on the warm grass of an anonymous park reflecting on how these two Puerto Rican girls from industrial Western NY had traveled the world yet feeling so lost in that particular moment.
Teary-eyed, I said goodbye to her at Gare du Nord as I was headed back to Germany. It took months to leave the abusive relationship I was in but that experience was a turning point to give me the courage to break away. Sometimes it takes someone from home in faraway lands to bring a spark back into your life. For her, my visit was a turning point as well. After our meeting, she found an apartment on the 18th arrondissement and her experience in Paris turned to a positive one. She says that weekend broke a cycle of pessimism for her. It did cracked a cycle of emotional violence for me.
Fast Forward to 2014: Nina and I Dancing at my Wedding in Rochester.
Six years have passed and I find myself meeting Nina in our hometown where she currently lives. In Rochester, I had the opportunity to witness one her greatest milestones: a play she wrote,
The Life of Leo Wool
come to life. We have met at many places, to include at my wedding in Rochester this year. The experience we had in Paris will always be one of those travel memories I will have close to my heart. Do you have a healing travel experience?